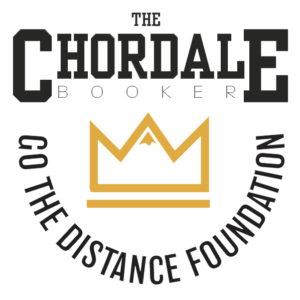 For Immediate Release: November 8, 2018
Undefeated Professional Boxer and Stamford Native Chordale "The Gift" Booker to Launch Go The Distance Foundation at Trailblazers Academy Charter Middle School
Foundation to serve area at-risk youth through mentorship and providing a bridge between teens and community leaders
Stamford, CT – 2015 national champion and undefeated professional boxer (12-0) Chordale Booker will launch his non-profit, Go The Distance Foundation, on Wednesday, November 14, 2018 at Trailblazers Academy Charter Middle School, 83 Lockwood Avenue, Stamford CT at 1 p.m.
Booker, now 27, was arrested and charged with gun and drug possession in his hometown of Stamford when he was 18 – charges that carried a mandatory 13-year sentence. A judge's ruling allowed Booker to serve probation, during which time he found solace and success as one of the area's top amateur boxers – becoming a three-time New York boxing champion, the 2015 Golden Gloves champion and men's elite national champion, and allowing him to finish runner-up in his weight class at the 2016 Olympic boxing trials.
Booker has committed himself to being a role model and has done so as a coach and mentor to Stamford youth. He feels that if he had similar positive influences in his life, his path may have been drastically different. With Go The Distance Foundation, Booker hopes to provide that type of positive influence in Stamford and beyond. The Foundation will host monthly meet-ups where Stamford teens can not only work out with Booker in his home gym (Revolution Training, 579 Pacific Street), but also interact with Stamford community and business leaders including law enforcement.
"My hope is to use my influence and growing national profile to better my hometown," said Booker. "I want to be the bridge that facilitates cooperation, conversation, and understanding between students and local authority figures – a bridge that I was missing when I was their age. That void, subsequently, pushed me down the wrong path."

He added, "I want them to know that they are not alone, and that the right path is the best path. They may have been knocked down, but like me, they can get back up, do the right thing, and go the distance, whether in the ring, in the classroom, or in any avenue they wish to pursue."
At the November 14 launch, Booker will screen for Domus students the award-winning documentary on his personal story, The Boxer by Craig Cutter, host a question and answer period, invite students to participate in the Foundation's events, and kick off a joint canned food drive between Domus and Revolution to benefit local shelters and homeless.
About Domus Kids, Inc.
Domus Kids, Inc. is a Stamford-based multi-service organization serving more than 1,500 young people, helping them to rise above adversity through compassion, understanding, and guidance through our school, out-of-school, and juvenile justice programs. Domus does this by providing young people with academic support, social-emotional skill building, and personal and practical connections that help them become resilient, positive contributors to their communities. Please visit www.domuskids.org for more information.
###